Click on the title of any book for purchasing information. Find an independent bookstore near you.
The Wal-Mart Effect : How the World's Most Powerful Company Really Works–and How It's Transforming the American Economy by Charles Fishman (2006) – Fishman provides original research and a thorough, balanced analysis that will discomfort both Wal-Mart's backers and foes. Articles like this and this preview the book's content and quality.

In Sam We Trust by Bob Ortega (1999) – Then-Wall Street Journal reporter Ortega wrote this definitive biography of Wal-Mart founder Sam Walton. It's extensively researched, well-written and a hefty 413 pages (out of print, but readily available).

Wal-Mart: the Face of Twenty-First Century Capitalism Edited by Nelson Lichtenstein (2005) – This title's twelve chapters, each by different authors, are based on papers submitted conference at UCLA.

Up Against the Wal-Marts: How Your Business Can Prosper in the Shadow of the Giants by Don Taylor and Jeanne Smalling Archer (1994) – An excellent and relatively timeless resource for business owners in all fields. Provides ideas to help independent business owners compete successfully against chains.
Anti-Walmart Books

The Bully of Bentonville by Anthony Bianco (2006) – Not yet reviewed. The writer is a reporter for Business Week Magazine.

Slam-Dunking Wal-Mart by Al Norman (1999) – Though the book is geared toward folks working to stop individual big box stores, there's good, broadly applicable organizing information as well. Also by Al Norman: The Case Against Wal-Mart (2004).

Nickel and Dimed by Barbara Ehrenreich (2002) – Not reviewed. The author goes undercover as a Wal-Mart employee and reports on her experiences.

Selling Women Short by Liza Featherstone (2004) – Not reviewed. Featherstone covers the pending women's class-action lawsuit against Wal-Mart for alleged illegal discrimination in pay and promotion.
The United States of Wal-Mart (2005) by John Dicker – Not yet reviewed.
Pro-Walmart Books

The Wal-Mart Way: The Inside Story of the Success of the World's Largest Company by Don Soderquist (2005) – Not reviewed.
 Documentary Films

Talking to the Wall by Steve Alves (2004, 57 min.) – An engaging film that profiles a fight against Wal-Mart in a single Massachusetts community, but also provides interesting history, such as an overview of the U.S. anti-chain store movement of the 1920s and 30s.

Independent America (2005, 81 min) by Hanson Hosein and Heather Hughes – These two journalists entertain as well as inform as they document their travels across the U.S. investigating battles between "mom and pop" and corporate chains (including Wal-Mart). Includes interview with ReclaimDemocracy.org's founder.

Wal-Mart: The High Cost of Low Price (2005, 97 min) – This Robert Greenwald film provides a compelling case against Wal-Mart, especially when interviewing former executives. We published this discussion guide to help lead folks from critiquing one corporation to understanding the structural problems Wal-Mart exemplifies.

Frontline: Is Wal-Mart Good for America? (2004) – An informative PBS special that covers many topics, with a focus on Wal-Mart's use of overseas "sweatshops."

Why Wal*Mart Works and Why that Makes Some People Crazy! (2005, 72 min) – While we welcome opposing viewpoints, this film is unlikely to persuade anyone not already firmly pro-Wal-Mart.
UCLA Conference on Wal-Mart (2005, 6 hrs) – This DVD collects six hours of panel discussions from a 2005 conference that represented a wide range of viewpoints. Not yet reviewed.
See our huge collection of articles, studies, internal documents and more on Wal-Mart and big box stores.

Visit our Merchandise Page to see these stickers, buttons, and more.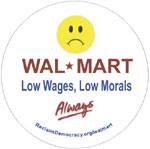 Please help support this work — make a tax-deductible donation to Reclaim Democracy today!