Anti-Big Box Chain and Pro-Local Business Groups
These groups pursue broader agendas than fighting Wal-Mart, but provide relevant material.
This group offers dozens of models for rules encouraging community empowerment and decentralization, limiting big box stores, and more.
Helps communities organize proactively via local Independent Business Alliances that resist big box proliferation and help community-based businesses to thrive.
The site of anti-big box organizer Al Norman has many useful resources.
Produces the useful and free guide, "How to Win Land Development Issues."
Yes, that's us. Since we see many people come directly to this links page, we want to make sure you don't miss our huge collection of articles, studies and other resources.
National Anti-WalMart Websites and Blogs
This easily searchable database, compiled by Good Jobs First, allows users to find subsidies given to Wal-Mart and instances where the corporation fights local property tax assessments. Though not yet comprehensive, it's a valuable tool.
A well-written blog with current news and mostly critical views on the corporation.
An extensive union-supported site
Not anti-Walmart, but a coalition of employees seeking to improve their treatment
Community Organizations Fighting WalMart or Big Box Chain Development in the U.S. and Canada
WE NO LONGER ARE UPDATING THIS LIST. While we periodically remove dead links, many sites may not be current and groups may have disbanded. For a current list and map of dedicated pro-local/independent business advocacy groups — which are crucial to any long-term success — see AMIBA.
Arizona
Flagstaff: Friends of Flagstaff's Future 
California 
Atascadero: Oppose Wal-Mart
Chico: Chico Cares
Hercules: Friends of Hercules
Humboldt County: Healthy Humboldt
Los Angeles: Los Angeles Alliance for a New Economy 
Marina: Citizens Against Walmart in Marina
Oakley: Save Oakley Now 
Rosemead: Save Our Community
Vallejo: Vallejoans for Responsible Growth
Ventura: Central Coast Alliance United for A Sustainable Economy (CAUSE)
Westlake Village: WLV United
Colorado
Frisco: Frisco Business Alliance (defeated Home Depot- report )
Longmont: Longmont Residents for Responsible Development
Conneticut
Canton: Canton Advocates for Responsible Expansion 
Stafford: Stafford First 
Simsbury: Simsbury Homeowners Advocating Responsible Development
Watertown: Concerned Citizens for the Preservation of Watertown
Florida
Miami-Coconut Grove: Coconut Grove's Stakeholder Community
St. Petersburg and Orlando: WARN
Tarpon Springs: Friends of the Anclote River
Idaho
Moscow: Yes Moscow, No SuperWalmart
Illinois
Glen Carbon: Glen-Ed Citizens for Fair Growth
Kentucky
Newport: United Against Wal-Mart in Newport, KY
Maryland
Crofton: Crofton First
Michigan
Bedford: Bedford Watch
New Jersey 
Deptford: CCOdeptford.com 
New York 
Alden: Alden Residents for Responsible Growth 
Ballston Spa: Concerned Citizens for Smart Growth
Brunswick: Brunswick Smart Growth 
Geneseo: Association for the Preservation of Geneseo 
Liverpool: Liverpool First 
New York City: Wal-Mart Free NYC 
New York City: Neighborhood Retail Alliance 
Saranac Lake, North Elba: Sound Adirondack Growth Alliance, plus this blog.
Tompkins County: Tompkins County Living Wage Coalition 
North Carolina
Waxhaw: Alma Village HOA
Ohio
Cleveland: No Cleveland Wal-Mart
Oregon
Beaverton/Cedar Hills: Save Cedar Mill 
Bend: Our Community First 
Gresham: Gresham First
Portland: Save Madison South
Texas
Allandale: Responsible Growth For Northcross 
Austin: Responsible Growth for Norcross, ACRCLE
Highland Village: Highland Village Unite
Lake Highlands: No Big Box, No Way
Vermont
Statewide: Vermont Wal-Mart Watch
St. Albans: NW Citizens for Responsible Growth
Washington
North Snohomish: North Snohomish Community Matters
Wisconsin
Sturgeon Bay: Door County Residents for Fair Enterprise
CANADA
Gibsons, BC: Sunshine Coast Citizens Concerned with Responsible Development
Do you know of a group that should be added to this list or have contact information updated? Need a simple web page to host information on your group? Please Contact us
Pro-WalMart Websites
Keeps up-to-date information about store numbers, profits, and much more. Links to numerous other company websites can be found here.
This blog's editorial content is updated infrequently, but it contains up-to-date business and financial information in user-friendly format.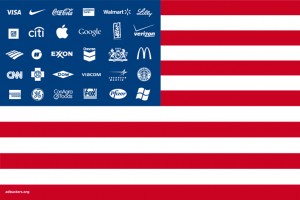 Consider purchasing a corporate logo flag
(the American flag with corporate logos in place of stars), to show your objection to corporate personhood and raise awareness of the problem.