Since other organizations now dedicate extensive time to reviewing and collecting studies on big box development and related topics, we are no longer adding to this archive. Three excellent libraries are noted and linked at: Independent Business, Chain and "Big Box" Retail Studies.
Nov 2011 –  Food for Thought (report on projected impact on Harlem's grocers by Borough President's office)
April 2011 – Does Local Firm Ownership Matter? (Economic Development Quarterly). Communities with many small, locally owned businesses saw greater income growth, while absentee-owned businesses had negative impact.
Apr 2011 –  Big Box Retail and Living Wage Policies (U. Cal. Berkeley Ctr. for Labor Research and Education)
Jan 2011 –  Wal-Mart's Economic Footprint. A literature review asembled by the Center for Community Planning and Development at Hunter College (NY)
Jan 2011 –  Superstores: How to Analyze Their Impact on Your Town is a toolkit sold by Rodino Associates
Feb 2010 –  Dominant Retailers Incentives for Product Quality (pdf) (multi-university study)
Dec 2009 –  The Impact of an Urban Wal-Mart Store on Area Businesses – by Center for Urban Research and Learning at Loyola University Chicago
June 2008 –  Save Money, Live Better: a report on Walmart's state tax avoidance schemes. Published by Walmart Watch.
June 2008 – Has Wal-Mart Buried Mom and Pop? Study by Andrea Dean and Russell Sobel of W. Virginia U.
Dec 2007 – A Downward Push: The Impact of Wal-Mart Stores on Retail Wages and Benefits A study from U. Cal. Berkeley Labor Center (10 pp pdf)
Dec 2006 – Wal-Mart and Social Capital. Produced by the American Agricultural Economics Association (8 pp pdf).
June 2006 – Study by Economic Policy Institute Says Wal-Mart's Claimed Savings for Customers are Greatly Exaggerated (link is to text summary).
May 2006 – Wal-Mart and Crime. A report on local impacts of stores by the anti-Wal-Mart group WakeUp Wal-Mart (29 pp pdf).
Sept 2005 – What Do We Know About Wal-Mart? Compiles latest data on the corporation's pay, benefits and compliance with laws, and compares to other retailers. New York data highlighted. (Brennan Center for Justice, 12 pp pdf).
Sept 2005 – Wal-Mart and the Waltons: Self-Interested Philanthropy (Committee for Responsive Philanthropy, pdf).
June 2005 – NBC's Dateline investigated conditions in overseas factories that supply Wal-Mart and other retailers in this report (transcript and video clips available).
Nov 2004 – PBS' Frontline produced the documentary "Is Wal-Mart Good for America?" and many informative articles to accompany it.
Oct 2004 – Wal-Mart and County-Wide Poverty (16 pp. pdf) is a study produced by Penn State U.
Aug 2004 – The Hidden Cost of Wal-Mart Jobs (16 pp. pdf). This study from the U. of California, Berkeley, Labor Center adds up costs to taxpayers that result from Wal-Mart employees needing various forms of welfare. Note that the Center is unabashedly pro-union. See also this Response to Criticisms by Wal-Mart and media coverage of the report.
Jan 2004 – Supercenters and the Transformation of the Bay Area Grocery Industry: Issues, Trends, and Impacts. This study (108 pp. pdf) by the Bay Area Economic Forum has the most thorough data we've seen on wages, prices, and numerous other issues. Though the analysis is regional, most data is national.
Jan 2004 – "Wal-Mart Supercenters, What's in Store for Southern California?" (45 pp. pdf) Released only with the client's (Wal-Mart) input and approval, this uniquely rosy report is suspect due to some glaring holes, such as ignoring employee benefits in its economic calculations.
July 2001 – A PBS special, "Store Wars," explored the battle over Wal-Mart's entry in a small town. Accompanying online resources include a teacher's guide for helping students evaluate the issue.
Feb 1997 – The Shils Report. This huge study from Dr. Edward Shils at U. of Pennsylvania's Wharton School has a wealth of information on big box retail impacts, predatory pricing, and much more.
Web pages from the Institute for Local Self Reliance link many other useful studies on Wal-Mart and big box retail.
See our WalMart resources page and Walmart topic page or these anti-Walmart t-shirts, stickers, and more.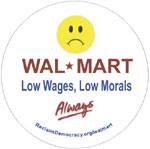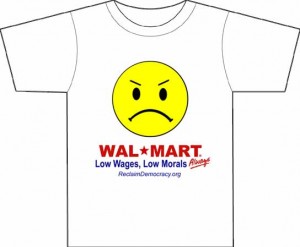 Please help support this work — make a tax-deductible donation to Reclaim Democracy today!