If Montana's legislature sought to prove the need for Congress to enact federal voting rights protections, mission: accomplished.
Just six years after Montanans voted overwhelmingly to keep Election Day registration, Republican legislators rendered citizens' votes meaningless and revoked the opportunity 12,000 voters used to register in 2016, comprising 2.3% of the statewide vote.
The GOP also attacked the freedom of citizens to have someone else deliver or mail their ballot. The people most impacted are Montana's 78,000 Native Americans, most of whom live on rural reservations. Many residents lack home mail service and travel to distant polling locations is costly in both time and money, so requiring a special trip just to register is a sure tactic to prevent some people from registering.
The new restrictions on ballot collection reprise a law already struck down in Montana last year. The Western Native Voice v Stapleton ruling declared obstacles for Indigenous voters, "…are simply too high and too burdensome to remain the law." Disability Rights Montana also denounced the law's harm to their constituents.
Governor Gianforte and Republicans know their attacks on voters will generate more lawsuits and cost Montana taxpayers, but like local control, fiscal responsibility is just a talking point, not a real principle.
In a separate bill, Republicans manipulated our voter ID law for partisan advantage, so a secure student ID from the University of Montana is no longer sufficient, but a handgun license, whose owners skew Republican, is just fine.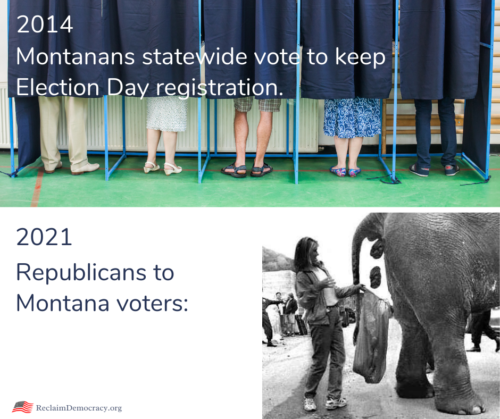 More anti-democracy bills were crammed in with no chance for meaningful citizen input, including laws that would turn Montana judges into partisan politicians, invite the Attorney General to inject political bias into ballot initiative wording, and interfere with independent redistricting.
Many Democrats claim the GOP can't win without suppressing voters, but Montana disproves that theory. Republicans dominated the state in free and fair elections last year — they simply reject the core democratic principles of our republic.
Montana is one of many states where Republicans obstruct voting by people of color, students, and any demographic group they fear. For decades, our Voting Rights Act (VRA) required federal approval for election law changes in states with records of disenfranchisement tactics, dissuading abuses nationwide.
In 2006, almost all Congressional Republicans, and every U.S. Senator, joined Democrats to extend the VRA by 25 years. But in 2013, Chief Justice John Roberts — who led campaigns attacking the VRA prior to becoming a judge — led a 5-4 majority of the Supreme Court in gutting the law.
Now, Republicans are exploiting their own seditious lies to introduce more than 360 voter suppression bills, encompassing at least 49 distinct tactics!
Defending our votes from these attacks again requires federal action. While the John Lewis Voting Rights Act protects against many disenfranchisement tactics, the For the People Act (FPA) creates standards for fair election processes. The FPA, already passed by the House of Representatives, would expand and secure ballot access, increase election security, and reduce the power of money over elections. An overwhelming majority of Americans support these reforms, yet Congressional GOP members remain loyal to conspiracy theories, rather than their own constituents.
No progress can occur unless the filibuster is eliminated or at least one GOP Senator decides democracy is more important than partisanship. Senator Daines has yet to renounce his "stolen election" claims, but we should persist in demanding he serve Montanans, rather than the extremists dragging the Republican Party into the sewer.
Finally, we must recognize a hard truth: as long as our ability to vote depends on who controls the state we live in, voting is merely a vulnerable privilege and not a right. Ultimately, we must amend our Constitution to embed an affirmative right to vote and ensure our votes count equally.
The writer, Jeff Milchen, founded the Montana-based Reclaim Democracy!, which works to secure voting rights and empower citizens. Follow him on Twitter: @JMilchen
More Voting Rights Resources