August 22, 2020
Displaying his signature blend of victimhood and vitriol in a recent speech, President Trump accused political protesters of pushing a "cancel culture — driving people from their jobs, shaming dissenters, and demanding total submission from anyone who disagrees." 
Put aside the hypocrisy of those words coming from a man who's called for dozens of people to be fired for expressing opinions he dislikes. The more serious issue is the popular claim that "political correctness" presents a great threat to our freedom. In truth, its counterpart — patriotic correctness — suppresses dissent more widely and imposes greater consequences. 
Take the story of country music stars The Dixie Chicks. The three women band leaders never faced notable criticism of their Confederacy-friendly name. Yet the band downsized their name to The Chicks for their just-released album, Gaslighter, simply announcing, "we want to meet this moment."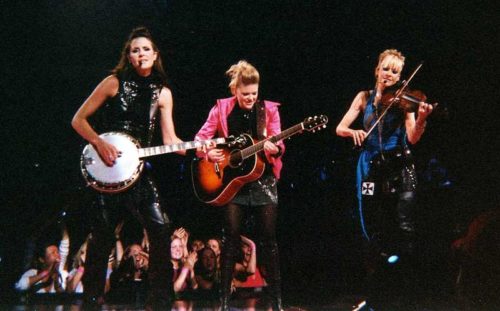 Contrast that to 2003, when the band stepped out of line with country music political orthodoxy.
Days before the invasion of Iraq, vocalist Natalie Maines told a London audience, "We do not want this war, this violence, and we're ashamed that the President [G.W. Bush] is from Texas."
The backlash was immediate and savage as thousands of country music radio stations forbid DJs from playing The Chicks, slashing their record sales. Some groups staged events destroying recordings by The Chicks and band members received numerous death threats. 
The Chicks nearly vanished for years, but several multi-platinum albums granted them the wealth and power to resume their career years later. Their comeback single, "Not Ready to Make Nice," defiantly rebuffed would-be suppressors. But less powerful country artists confirm the fear of getting "Dixie Chicked" influences everything from their lyrics to political engagement. That fear is just starting to ease nearly two decades later.
Performers identified as right-wing, like country star Toby Keith, may deter some invitations to perform with their stances, but face no such organized intimidation. 
Patriotically correct doctrines include: American exceptionalism is unquestionable, even though we trail other wealthy nations in many key measures. Our military spending is untouchable. Service members should receive preferential treatment without regard to personal merit. And patriotism should be expressed with chest thumping and flag waving, not dissent that aims to illuminate and correct our biggest flaws.
The NFL is among the institutions enforcing those rules. When President Trump attacked Colin Kaepernick for this kneeling protest against police killings of Black people, the NFL didn't merely fail to defend an employee, it effectively halted his career. Silencing one of the league's most visible stars made it unnecessary to tell any athletes just trying to make a team to "shut up and play." Message received.
And what is the playing of our national anthem at sporting events other than institutionalized patriotic correctness?
Patriotic correctness is so omnipresent we rarely notice it and, like racial biases, practice it unconsciously. In an interview, liberal icon Justice Ruth Bader Ginsburg called Kaepernick's protest "dumb and disrespectful," giving the patriotism police a quote to weaponize. (She later apologized.)
Meanwhile, right-wingers play the victim when grifters like Milo Yiannopoulos lose speaking gigs for business reasons, failing to fulfill contractual promises or when college students organize to stop their fees from going to such self-promoting provocateurs.
As Alex Nowrasteh of the libertarian Cato Institute says, "every group has implicit rules against certain opinions, actions and language as well as enforcement mechanisms — and the patriotically correct are no exception. [But] they are near-uniformly unaware of how they are hewing to a code of speech and conduct similar to the PC lefties they claim to oppose."
To be clear, political correctness can do harm to the free exchange of ideas, and too many Americans are ready to judge others for a careless utterance, but the patriotic correctness unleashed on The Chicks is both more pervasive and severe than any progressive pressure.
The Chicks blacklisting yielded only a setback — one they had the power to overcome by virtue of their previous success, but their persecution silenced many more vulnerable people.
The most powerful suppression of speech is accomplished through implied threat and voluntary compliance, not punishment.
The writer, Jeff Milchen (@JMilchen), is a political consultant who founded Reclaim Democracy! and the American Independent Business Alliance.