(and Why You Should)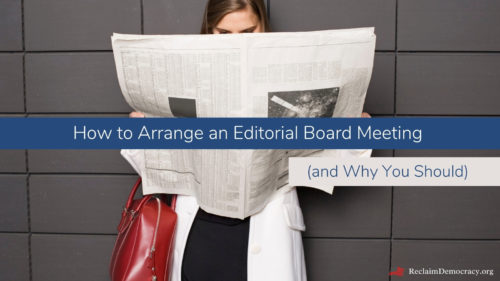 Editorial boards are commentaries that reflect the official position of a newspaper. Generally, the board assigns an editorial to be written by the board member with the most expertise in the topic. Other members offer input on the editorial, which is often published unsigned.
Why request a meeting with the editorial board?
Editorials boards in your local and regional newspapers can make a big impact on the community. Because editorials reach many people, it's worth investing time to build a relationship with your local editors and informing them of your position, concerns, and expertise. 
You can request a meeting with an editorial board to introduce yourself or your organization or ask them to write about an issue. One value of arranging an editorial board meeting is to make them aware that you're a credible and knowledgeable local resource for future coverage. A face-to-face meeting (even virtually) can positively define you, your local group, and your work.
When preparing for your meeting with an editorial board, practice these useful tips for a meaningful and productive meeting:
Role play the meeting. Ask your group to brainstorm the toughest questions you may be asked on the subject, and challenge the meeting participants until they can provide concise, confident, and accurate answers. In advance, identify who will tackle which topics.
Bring two or three people. Or more, if warranted. Bring a diverse group representing a range of stakeholders in your community. If bringing someone who advertises with the paper and is also an expert in the area, DO NOT mention them as an advertiser.
Learn the players. Learn the board members, as well as what editorial position they may have taken about your issue. Be ready to build on or gently pivot from their beliefs; avoid clashing. The publisher, news editors, and relevant reporters may also participate. You can request a specific reporter's coverage.
Learn the jargon. Familiarize yourself with the frequently used terms and the different types of newspaper pieces. Be ready to discuss the most-appropriate outlet for your message.
State exactly what you want. This may include a specific editorial (often a primary reason for the visit), asking for more coverage on issues, and let them know your expertise on the issues and why your perspective assists with thorough reporting.
Present your key points in 30 minutes. You'll rarely have more than an hour, so present your key points early. You never know when an editor may be pulled away from the meeting.
Send key information before the meeting AND bring printed copies for all members. Most meetings will be virtual, but a background primer allows all attendees to focus more on key points. Limit backgrounders or fact sheets to 2-3 pages. Send sheets as a PDF.
Be credible. Do not overstate your case. Don't try to answer questions that you can't answer confidently. Admit you need time to check facts and get them an answer the same day.
Summarize your key points to close the meeting and make your request, again. Reiterate your key points; repeat your ask.
Send a thank you note, promptly. Thank all attendees for their time. Also use this opportunity to put in-writing any information that you lacked, including any fact-checked information.
If you don't get the results you want, recognize that building long-term relationships is more important than a single story. You can always request the opportunity to submit an opinion piece (see our guide to op-ed writing and ask us for suggestions). If an factual error occurs, politely request a correction.
Make use of outside experts and "celebrities". A prominent speaker, expert, or local "celebrity" can help you get in the door. If you have someone willing, take advantage of the opportunity and request a meeting. This tactic is especially useful for larger publications.
While this resource is geared toward newspaper editorial boards, you can also use these tips when meeting with a local TV or radio station. We also have a useful guide for calling into local talk radio shows.
Frequently Used Terms
Columnists usually are newspaper staff, writing to express their personal perspective.
Editorials are the collectively published opinions of the publication's editors.
Letters to the editor (or LTEs) range from 100 – 300 words and are best for making a single point or responding to an article, op-ed, or editorial. Be sure to see our guide to writing effective LTEs.
Opinion editorials (or Op-eds) are commentaries from community members, freelance writers, or other columnists that usually range from 550-750 words. See our op-ed writing tips.
Other Tools for Activism