Century-old precedent barring direct corporate spending to control election outcomes is under attack
Last updated November 30, 2009
After hearing arguments during its last term in the case of Citizens United v FEC,
the Supreme Court took unusual action by inviting re-argument of the case to evaluate long-standing law (and recent Supreme Court decisions upholding these laws) that prevent corporations from directly spending company funds to influence election outcomes.
ReclaimDemocracy.org chose not to engage in an amicus curiae (friend of the court) brief in this case as we have in two related cases in recent years (Randall v. Sorrell and Nike v. Kasky). We knew some of our close allies (see below) would engage and we believe there is benefit in different organizations delivering the consistent message about the illegitimacy of corporations wielding political "rights."
At least two amicus briefs filed in support of the appellee (the FEC) directly raise arguments against corporate personhood. It is the centerpiece of one written by Jeffrey Clements on behalf of the Program on Corporations, Law & Democracy; Women's International League for Peace & Democracy; Democracy Unlimited of Humboldt County, et al. Read their press release here.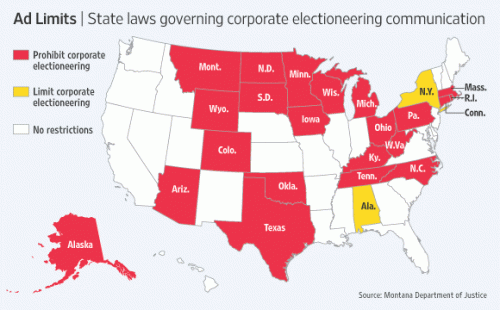 Image source: Wall Street Journal
The other brief was submitted by Demos on behalf of the American Independent Business Alliance. AMIBA's participation illuminates the stark contrast between a group truly representing America's small businesses and the U.S. Chamber of Commerce, representing global corporations. The Chamber argues for letting corporations dominate elections even more thoroughly. AMIBA's press release offers an idea of the main argument, or see the full brief.
A ruling is likely by January of 2010.
Notable coverage from other sources (prior to Sept 8)
Read more on the underlying issue of Corporate Personhood