The following is excerpted from "Lines Blur as Texas Gives Industries a Bonanza," part of a series on corporate tax incentives in the New York Times. Published December 3, 2012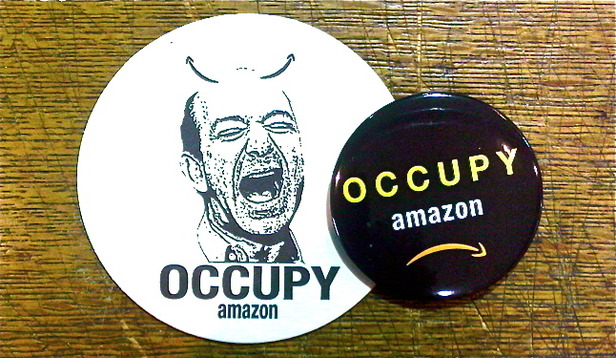 Tarik Carlton gathered with other workers in February 2011 to hear the bad news: Amazon was shutting its distribution center in Irving, where he loaded trucks for $12.75 an hour.
Business had been strong, but the online retailer did not want to pay a $269 million tax bill from the state comptroller. A standoff with the state ensued, and Amazon laid off the workers. "They didn't have our interests in heart, truth be told," Mr. Carlton said.
Amazon opened the distribution facility in 2005 in Irving, near Dallas-Fort Worth International Airport, and local officials awarded the company tax breaks on its inventory.
Positions at the warehouse included product pickers, dock crews and truck loaders. The employees were typically on the young side, and some had served in the military. The warehouse churned through workers because many could not meet the quota of products they were supposed to move each day, according to Frankie Lloyd, who helped Amazon find temporary workers to fill many of the jobs.
"It's all about what you can do physically," Ms. Lloyd said. "Like manufacturing, but without the great pay."
The distribution business grew as manufacturing moved overseas and online shopping boomed. It is big in the Dallas area because two main train lines run here from Long Beach, Calif., where goods arrive from Asia.
The work is highly physical. One Amazon worker wore a step counter that logged five miles during one shift, according to Mr. Carlton, who only recently found a new job. He was among 12 former Amazon workers, including two warehouse managers, who agreed to be interviewed.
There was no air-conditioning in the warehouse, and Mr. Carlton and others said the temperature could reach 115 degrees. They said it was difficult to take breaks given the production quotas.
The pay was typically $11 to $15 an hour, Ms. Lloyd said. Amazon gave out small shares of stock and some bonuses, but the amounts were minimal, she said.
Amazon said it had been working to upgrade its warehouses, which it calls fulfillment centers. The company has installed air-conditioning in all its centers over the past year, said Dave Clark, the vice president for global customer fulfillment.
Mr. Clark said workers always received breaks, and sometimes free ice cream when the facilities did not have air-conditioning. He said the quotas were akin to "expectations that go along with every job, mine included."
"I really do think these jobs get a bad rap," Mr. Clark said. "They're great jobs. They're safe jobs."
Mr. Carlton said he had no idea the company was being partly subsidized. "If you give them money, I think more should be expected," he said, adding that Amazon should have been required to hire more people to handle the heavy workload.
John Bonnot, the director of business recruitment for the Irving Chamber of Commerce, said the city did not impose wage or benefit requirements on companies that received incentives. Irving had required that Amazon create only 10 jobs to receive the tax break.
Mr. Bonnot said Amazon "would have nothing but praise" for the original assistance from the state and the city, which outsources its economic development to the local chamber.
Things began to slide downhill in late 2010 when the state comptroller, Ms. Combs, demanded that Amazon pay the $269 million sales tax bill. The retailer had never charged its Texas customers the tax, giving it an advantage over on-the-ground competitors.
The company hired three powerful advocates with ties to the governor, according to state lobbyist disclosure records. One, Luis Saenz, had been the director of Mr. Perry's political operation. Days after the warehouse closed, Mr. Perry said he disagreed with the comptroller's decision to demand the taxes.
As it was battling with the comptroller, Amazon began negotiating with the Legislature, which was debating whether online businesses should be required to charge sales tax. The company told lawmakers that it would create up to 6,000 jobs in exchange for delaying sales tax collections, similar to a compromise it had struck in states like South Carolina and Tennessee.
The lawmaker with the most power in the decision was John Otto, a Republican member of the Texas House of Representatives. Like all Texas legislators, Mr. Otto's government job is part time. He also works at Ryan LLC — a job that is not disclosed on his legislative Web site.
Mr. Otto drafted legislation that said online retailers like Amazon would not have to charge sales tax as long as it did not have distribution facilities in Texas. By then, the company had already shut the Irving warehouse.
Mr. Otto and Mr. Saenz declined to comment about the legislation. Amazon would not comment on its negotiations with Texas.
In July, Amazon began collecting sales tax from customers in Texas after the comptroller agreed to release the company from most of its $269 million bill. The company has also promised to open new distribution facilities and hire 2,500 workers. Amazon will owe the state a $1 million penalty if it fails to deliver.
[pullquote] For Texas to give up more than $250 million in tax revenues in exchange for 2,500 jobs amounts to about $100,000 per job.[/pullquote]
The math on the new deal angers former Amazon workers, especially those who are still unemployed. For Texas to give up more than $250 million in tax revenues in exchange for 2,500 jobs amounts to about $100,000 per job. Most distribution workers are paid $20,000 to $30,000 a year. The rest benefits the company's bottom line, which generally increases executive bonuses and shareholder returns.
King White, a consultant who helps Amazon choose locations, would not comment on the online retailer but said that companies in general had come to view incentives as entitlements. "Everybody thinks they deserve something," Mr. White said. " 'If I'm creating jobs, what's in it for me?' "
The deal on the sales tax did not require Amazon to reopen the Irving facility. That touched off the latest state competition to win over Amazon.
Last month, the city of Schertz beat out neighboring San Antonio for one of Amazon's warehouses. The company is currently in negotiations with Coppell, outside of Dallas, about an additional center. Like Schertz, Coppell has offered Amazon a deal to keep a part of the sales tax it collects there, among other incentives.
If Amazon accepts, it will be located near Irving and many of its former workers. Sharon Sylvas, 47, had moved from Kansas seven years ago to help Amazon set up the Irving facility. She lives nearby in a one-bedroom apartment with her partner, daughter and two grandchildren.
After Amazon closed, she was out of a job for over a year. With limited options, Ms. Sylvas took a temporary position in October at another company's distribution center. It is a tougher job than the one at Amazon, and it pays less. For $11 an hour, Ms. Sylvas moves heavy inventory and other items.
She said that if Amazon returned to the area, she would work there again, despite the rigors of warehouse jobs. "It's real miserable," Ms. Sylvas said. "But you do it to make a living."
Image courtesy of John Stich via Diesel.
See also
Amazon Bolts Texas (Columbia Journalism Review)
Amazon Picks U.S. State Sales-Tax Winners (Business Week)
Amazon's Physical Presence in U.S. and the Sales Tax Battle (American Independent Business Alliance)